From ActivityVillage.co.uk, provider of free printables for children on the internet since 2000
"Finally! 120 Sudoku puzzles made Specially for Kids from 6 years and up... reliably Graded, available by Instant Download for you to
Print NOW!"
Which of these Sudoku for Kids benefits applies to you?
| | |
| --- | --- |
| | You would like a puzzle which will keep your kids happily occupied |
| | You want to develop your child's logic skills |
| | Your kids already enjoy Sudoku puzzles |
| | You want to develop your child's logic skills |
| | Your kids want to try Sudoku puzzles but find even the adult ones too difficult |
| | Your young child is gifted and needs to be stretched |
| | You are a teacher looking for a good time-filling activity for the classroom |
| | You run a children's club and are looking for quiet activities |
| | You want something special to enjoy with your child or grandchild |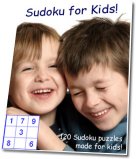 What will you get when you Buy Sudoku for Kids?
20 "easiest" puzzles using a 4 x 4 grid for beginners

20 "easy" puzzles using a 6 x 6 grid for improvers

40 "standard" puzzles using a 9 x 9 grid

15 "tricky" puzzles using a 9 x 9 grid

15 "very tricky" puzzles using a 9 x 9 grid

10 "Sudoku Extra" puzzles, which include a secret hidden code word for children to discover
The puzzles are designed with kids in mind and use bright colors and fun graphics which children love. Sudoku for Kids is produced by www.Activityvillage.co.uk, which has been providing printable activities for kids on the internet since 2000.
"Thanks for such an excellent product. My students are just crazy for these puzzles!"
"Just wanted to say thank you for the great idea to make an online booklet available for Sudoku for kids. It's great. My daughter came home from school (age 6) and was so excited when she saw the stack of printouts and got stuck straight into them, having come across them for the first time in the summer when helping her Grandpa with his Sudoku puzzles."
"I think it's just great and enjoy them myself (though I am concerned that they could become addictive!) Since I have two daughters (ages 6 and 8), I figured it was just as good to get the electronic copy and download pages as they want more and more difficulty. I printed some of the most difficult ones for myself, and have been struggling with one all week! That suggests to me it should challenge our children for a good while to come. I am very pleased with the product and find it well worth its cost. We also signed up for the new weekly puzzle which arrived this morning. Thank you for your effort. We are an anti-gameboy family and the more interesting and intellectually challenging endeavors we can find for our children the better! "

"Thanks so much. Can't wait to get started. Maybe will start a Sudoku Club here at school."

"Thanks for making the book. I am going to use it with my fifth grade class. In fact, I introduced them to the puzzles today, and they loved them. Some moved through four puzzles in an hour, and some struggled through the first, but all remained interested."

"The download is for my six-and-a-half year old granddaughter. I started her off about a week ago on 4 by 4s and she took to it like a duck to water. She graduated to 6 by 6s within about 45 minutes and finished her first 2-star 6 by 6 un-aided before bedtime. She even got up early the following morning to carry on!! Next week, she's on holiday with my wife and specifically asked me to find her some Su-Dokus and word searches to take with her. I visit your web site frequently, looking for colouring pictures, jigsaws (she loves doing those on my laptop, also her younger sister who is nearly 5 years old), jokes and word searches. I was pleasantly surprised to find the Su-Doku for Kids - well worth the £3.99, especially as I got the word searches for free."
"Sudoku for Kids looks really useful. I tried out one or two this morning in a class I teach of adults with learning disabilities who are working on numeracy and it went down very well! I like the fact it starts at a very basic level and buids up."
Sudoku for Kids is Available for Instant Download,
with Easy and Safe payment by credit card.
Listen to a message from the author of Sudoku for Kids:
"Worked great and my kids have enjoyed the Sodoku puzzles very much. Thank you."

"Download was simple, Thanks! My little girl is only 5 and can do the easiest puzzles by herself. She is crazy for sudoku and likes to do them after her breakfast."

"I have to tell you that I was thrilled when I found your site. My son, Tommy (age 9) has been quite interested in the Sudoku puzzles that I've been doing. Now he has a set for his very own. I printed off about 10 of the easiest ones last night and he had them done in no time! My only suggestion would be to provide a more condensed version for teachers."

"The mania for Sudoku only started to bite here in SA about 3 mnths ago. Our 6 year old daughter kept pestering us to make her some kid-friendly ones for her to attempt, so WHAT a pleasure to find your book on the net. Thank you, it will keep her busy through our long Christmas school holidays."

"My class of 38 2nd and 3rd graders are really enjoying your book Sudokus for Kids. Our local newspaper has just started including Sudoku puzzles each day, but those are for grownups and much too difficult!"

"Everything went great. I am a second grade teacher and using it in my mathematics curriculum. So far I am very happy with the progression and the strategies."
But are Sudoku really suitable for children?
Put simply - YES!
Children of all abilities enjoy the challenge of a Sudoku puzzle, if the puzzle is age-appropriate (bear in mind that many of the puzzles published in newspapers are too difficult for younger children).

Sudoku puzzles develop your child's reasoning skills and concentration.

Sudoku puzzles build your child's confidence.

The UK government-produced Teachers magazine has recommended that Sudoku puzzles are done in the classroom as brain exercise!

Kids gain huge satisfaction from completing a Sudoku puzzle.

Sudoku puzzles are fun!
"My 6 yr old daughter loves it & is onto the blue ones already. Fantastic idea for kids."

"I am a Middle School teacher and like to have different kinds of brain teaser activities for my students."

"I have downloaded the booklet and have to say I am very impressed. I am running a club for years 11-18 at school and I think you have just provided me with my year's resources."

"I downloaded the booklet for use with students in a gifted enrichment program, grades 3-8. The kids loved the free samples, so I purchased the whole book!"

"The kids love it."

"I downloaded for my wife who teaches Primary School kids. She has been doing quite a bit of Sudoku with them, and this resource seems ideal."

"The download went off without a hitch…I have been working Sudoku puzzles now for a couple of weeks with my little boy peering curiously over my shoulder. He is soon to be seven years old and, despite having suffered a stroke before birth, has always been eager to learn and hungry for challenges. We worked the first four puzzles yesterday and he was reluctant to put it aside when it came time to leave…so I have nothing but praise and thanks for your book."
More Benefits of Sudoku for Kids
Sudoku for Kids comes in pdf format for instant download and is designed for printing.
It offers many advantages over the Sudoku books now available in paperback format:
With a paperback book, only one child can be using it at a time.
You can print out just one or two puzzles to do now, or print the whole lot ready for when you need them.
Print multiple copies of each puzzle so that more than one child can try the puzzle at the same time - perfect for family or classroom use.
Choose to print 1 or 2 puzzles per page.
Choose to print in draft or greyscale mode to save on printer ink.
REMEMBER...
- Sudoku puzzles are fun
- Sudoku puzzles develop logic, reasoning skills and brainpower
- Sudoku are great time-fillers for a spare moment, both in the home and in the classroom
- Sudoku for Kids provides 120 graded puzzles
- includes 10 "Sudoku Extra" puzzles, exclusive to Sudoku for Kids and Activity Village
- You can print multiple Sudoku puzzles for your classroom, club or group
- Excellent value at only $7.95* - that's less than 7 cents a puzzle!
- Available for instant download. You could be printing out puzzles within the next 5 minutes!
- It doesn't matter what time of day it is... feel free to buy Sudoku For Kids at 2am!
- Pay with all major credit cards or Paypal, through Clickbank.
(* approximately £3.99)
"If I say that my son, Jack, almost 7 came home from school at 12.45 and has been doing the '4's since then (apart from gobbling down bowl of spag.) - I think we can confidently say that he just LOVES them. Also, Margaux, my daughter of 8 loves the '6's... I only started Sudoku at the beginning of the week and the kids have been nagging me to teach them. I looked for Sudoku for kids in local bookshops and supermarkets and didn't find any so it was my husband (who is still not addicted) who suggested to look on Internet and your website came up. Download went fine and have printed in draft mode + 4 games per page - I then print off what the kids need on the other side of each page - hence saving paper. Also - as you mentioned, there are no fights as I can print off 2 copies. Will definitely be passing on your details to mothers' at school."

"The download went just fine - simple. My daughter will love it - she's 4 and thinks the 4x4 Sudokus are great."

"I too am very passionate about Sudoku and my son is just beginning to take an interest in them as well. I also wanted to introduce my students to Sudoku so you can imagine I was very happy to find your website. ( I haven't been able to find any Sudoku puzzles for kids in our stores yet as Sudoku is just beginning to take off here). Thanks for a great product!"

"The puzzles are great!"

Thank you for the follow up. The download went fine and I printed a few to do with my 5 year old daughter tonight. It is hard to find stuff like this for kids, do you have any other products?

"I'm a teacher with a love for number puzzles. The kids are gonna love this! Thank you and good luck; I'll share your info. with the faculty."

"My son is 8 years old and we have only just found Sudoku, I am home educating him and this is a good way for him to learn logic and reasoning. Good luck with everything you do."
* Special Bonus *
BuySudoku for Kids now and receive Activity Village's Word Searches for Kids - normally sold at $4.95 - absolutely FREE.
Please note: You are not purchasing a REAL, physical book! Sudoku for Kids is an ebook in pdf format which must be
downloaded to your computer and printed on your own printer. You will need Acrobat Reader (available to download free from www.Adobe.com to open, view and print the file).
"My son is six and sees me doing them and wanted to try, so I surfed and found your website. He can do the 2x2 squares easy. Moving on to the 3x2 now - won't be long till can do the 3x3 squares!"

My 6 year old is totally hooked on Soduku. After 2 days he is doing the blue ones totally unaided. What a great change from being in front of the playstation."

"Just to let you know that my daughter is becoming a sudoku addict. The book is great and she is managing the 1-4 and 1-6 sudoku's quite easily (she is 6 1/2 years old). I'm sure she will be moving on to the bigger puzzles as soon as all the others are complete. Looks like I'm in for a peaceful school holiday!"

"Thanks for your message - the download worked fine and our girls think the Su Doku 'puzzles' are great fun!"

"My children are really into Sudoku, and have wanted their own versions for
a long time. When they saw yours, they were over the moon!!"

"These are just great, thanks!"

"The kids are really enjoying these sudoku. It is so easy to choose the correct level of puzzle for each child so that they don't struggle and enjoy the challenge."

"I just wanted to let you know that the sudoku for kids downloaded successfully. I have been addicted to sudoku for about a month now and plan on teaching my P7 class how to do them when school returns in a few weeks. I would definitely be interested in being added to the mailing list to receive sudoku puzzles on a Friday. Thanks again for making such a great resource!!"
Guarantee
We offer an 100% money-back guarantee during the six weeks immediately following purchase. If you are unhappy with your purchase for any reason, please contact us and we will arrange a full and prompt refund.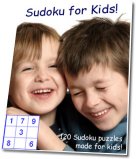 "I had no trouble with the download. My six year old daughter has just discovered the puzzles and while she is most comfortable with the four numbers she is quite enthusiastic about the six numbers and I'm sure it won't be long before we progress to nine. Thank you for the product."

"Thank you ever so much for your prompt response and helpfulness...I'll definitely be passing on details of your website to the other teachers I work with. I'm sure the kids in my class will love messing about with these puzzles - just getting my classroom organised for the forthcoming September Onslaught and am putting together an interactive SuDoku board so hopefully it will keep them amused for a few minutes a day!"

"I've downloaded the puzzles and they look great. My boys are able to do them (although they are not addicted yet, as I am to the adult version)."

"Hi, Just thought I'd let you know that I only recently became addicted to sudokus! Your site is great for me since I am returning to teaching in September and will have sudokus available now as a math activity for children who finish early! Thanks!"

"Thank you thank you. I finally got everything downloaded and printing.!!!It just takes me a little while... . . .I love this stuff. . . keep it coming."

"Download went beautifully and the sudokus are going down brilliantly with
my 6 year old and her friends."

"I thank you again for the great puzzles. It's so nice to see a child reach for a puzzle and use their mind rather than reach for the remote control, something I try to limit as much as possible. It was so easy to download and print the book, thank you so much for providing it for us. My oldest daughter is a Sudoku fanatic after discovering them last week. She is 6 and loves all things thinking-related. I also love the word searches and plan to give her one of each to accomplish each day, although she may need 2 Sudoku puzzles when they are just 1 - 4, she gets those too quickly! I can't wait to see her advance to the 1 - 9!"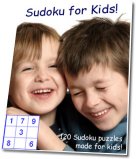 "Thank You, Yes, the download was perfect. To tell you the truth, I am an 81 year old kid myself and was thinking on my great granddaughter when I purchased your e-book, however, I think my old brain needs more exercise than theirs does, so I leave to guess who is going to get the most fun out of it."

"My 8 year old son just loves doing them. he's just a total maths brain!"

"Thanks for the sudoku book. We've already enjoyed it a lot."

"I look forward to working with my students on these puzzles ! Thanks !"

"Thanks to your help, I was able to download and print, "Sudoku for Kids". I can't believe how quickly you took care of my problem. I have already gotten an email from Clickbank telling me that my account has been credited. I'm very pleased with the ebook and with the way my problem (which I probably caused myself) was taken care of. It has been a pleasure doing business with you."

"I have gotten hooked on the puzzles and I am excited about having my students try them"

"My class LOVES your puzzles and looks forward to them every Friday morning when they enter the classroom. The logic development has been evident in other subject areas."

"I'm a teacher in 100 Mile House, BC, and I taught my gr.3/4 class Sudoku and they love it. I think I'm going to start a school Sudoku club and use your puzzles every week and then do a draw for a winner! The kids and I love them!"

"We are going to use SuKoku Puzzles for lunchtime activities - for when children finish lunch and need to keep busy. Thank you again."

"I started doing and loving Sudokus and my 6 year old grandson was intrigued. He started copying them for me from his newspaper. So I decided I'd see how he does with them. He's fascinated with numbers and is great at math. I have never liked numbers and have never been good at math."
Do YOUR Kids Sudoku?